Pets Welcome at Our Iowa Hotel
Pet Rocks Really Welcome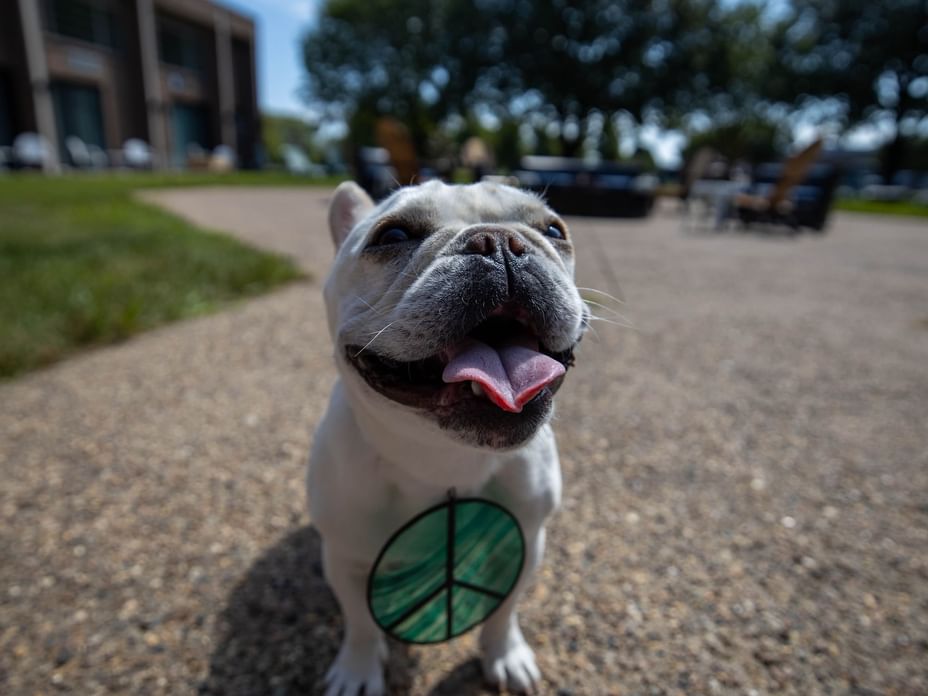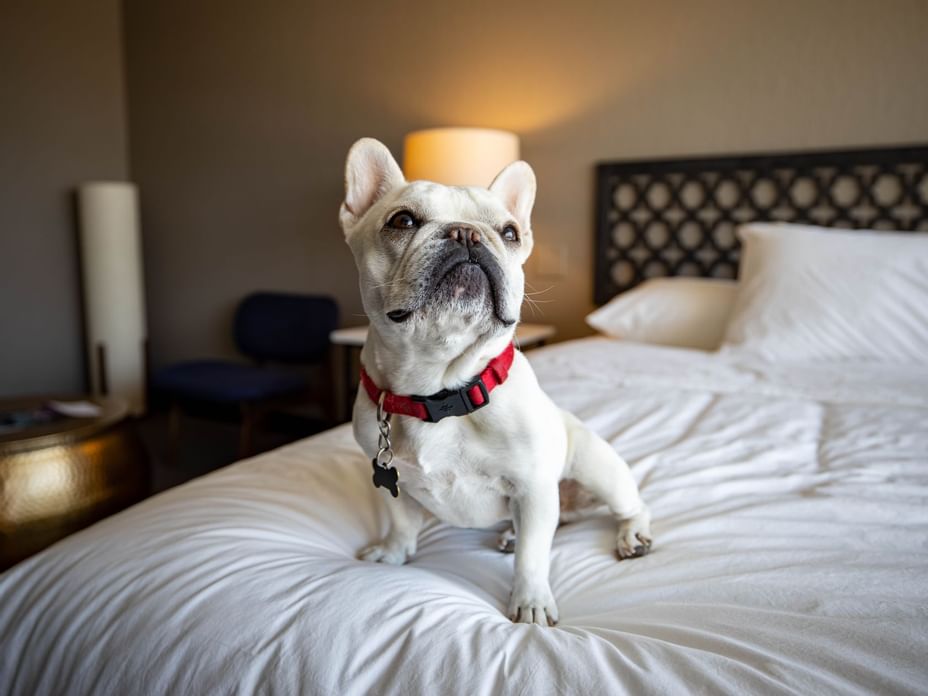 Pets welcome.
Pet rocks really welcome.
We love Pet Sounds. Bring a fluffy travel companion to The Highlander Hotel for just $30 per pet and we'll get them set up with a first-floor room for easy travel in and out of the hotel. Guests can embrace their inner hippie while lounging in our radical courtyard with a drink in one hand and a leash in the other. To keep that space fresh, we ask that guests not allow their pup to be taking care of business in the courtyard. We also have dog disposal bags on site to help deal with the least glam part of having a pet.
Shop till you drop. Or roll over.
Woofables Bakery
http://www.woofablesbakery.com/
For pups who have refined taste just like their owners do, Woofables is a local bakery that makes healthy treats from scratch. We have plenty of treats for guests at the Highlander Lounge and the Snack Shack, so pet owners should make sure to spread the love to Fido and order a batch or two from Woofables. Due to COVID-19, Woofables is not open for store browsing, but they are open Monday through Saturday for curbside pickup, and they offer free deliveries to the Iowa City and Coralville area.
Leash on Life
We know that guests forget to pack the essentials all the time before they leave home. While we've a few necessities for people here at the hotel, we'll send guests to the experts on pet supplies. Try to break the chain on pet stores and visit Leash on Life, a local one-stop-shop for dogs, cats, and even bunnies. During the time of COVID-19 they are open for in-store shopping, curbside pick-up, or delivery. To ask about their inventory and contactless pickup options, customers can give them a ring at 319-354-4334.
Pups and rec.
For those who are looking to unleash their dogs, there are a couple of groovy off-leash parks in Iowa City. To use these parks, you'll need to grab a day pass for $5 per pup. Both parks offer day passes near their entrances, so there's no need for travelers to panic if they didn't plan ahead.
Thornberry Off-leash Dog Park
The bigger of the two parks is Thornberry Off-leash Dog Park, located at 1600 Foster Road in Iowa City. Thornberry has separate areas for small dogs, agility equipment/training, and even a doggy swimming pond. But we still recommend human companions to pups take a dip at the hotel pool!
Rita's Ranch
Located at 640 South Scott Boulevard in Iowa City, this park encourages big dogs and little pups to come together. It's located within Scott Park, so after the pups get tired out visitors can spend some time with them on-leash, exploring the human-focused areas of the park.
Trailblazer.
For those who love to take a scenic walk with your pet, here's our guide to some of the sickest Iowa City trails. Visitors to Iowa City should keep the local laws in mind. No matter which path they take, their pets have to be kept on a leash.
Hickory Hill Loop
2.6 miles
This bike path goes all the way around Hickory Hill Park in Iowa City. If hikers want to wrap up their workout with a picnic, this place has a great vibe.
Clear Creek Trail
3.4 miles
Nestled between Iowa City and Coralville, this path takes pets and their owners alongside a river. The eastern end of the trail also passes by several historical markers. It's the perfect way to spend a day out after checking in at the historic Highlander Hotel.
Terry Trueblood Recreation Area
1.9 miles
Get in touch with nature with a visit Sand Lake in southern Iowa City. Wanderers can walk, run or hike around the lake or break off on a journey along the other trails that connect to this rec area.
Dog friendly dining.
For guests who love to dine with a dog by their feet Iowa City has options. Several local restaurants have patios that are dog friendly. We'll let guests know the places we think are the most radical.
Big Grove Brewery and Taproom
Big Grove Brewery is where we get some of our local craft brews and it's open to pets. They even post the dogs of Big Grove on their social media pages. It's the perfect way to get a little press for any pup.
The Bluebird Diner
The Bluebird Diner, a classic Iowa City brunch spot, has pet-friendly patio seating and a deep love for dogs. It's a groovy way to hang out with man's best friend.
Basta
https://www.bastaiowacity.com/
Basta, the best place for Italian eats in Johnson County, has plenty of space to seat for patrons and their pets outside, assuming that diners have space for pasta!
One Twenty Six
One Twenty Six is a restaurant with the unique aesthetic of European wanderer meets down-to-earth Iowan. They have wine for humans and complimentary water for pups on their outdoor patio.
Pullman Bar and Diner
Pullman is in the heart of downtown Iowa City and has a sweet design indoors, but they also have an outdoor patio on the sidewalk. It's a perfect place for travelers to stop when exploring all that Iowa City has to offer.
Healthy pet, happy life.
Nobody likes to think of their pet getting sick anywhere, but it can be especially scary vacation. Experienced Iowa City vagabonds probably already know where The University of Iowa Hospital is, but they might not know about the veterinary hospital that's only a two-minute cruise from The Highlander Hotel.
Bright Eyes & Bushy Tails Veterinary Hospital
This nearby pet hospital offers regular check-ups, but the wanderers staying with us will probably make more use of their 24-hour emergency care. This veterinary hospital's ICU is certified by the American Animal Hospital Association, so guests can rest easy with us knowing that the best doctors for their pets are right around the block.