Iowa City's Grooviest Independent Boutique Hotel
The Highlander Hotel is open for business and ready to rock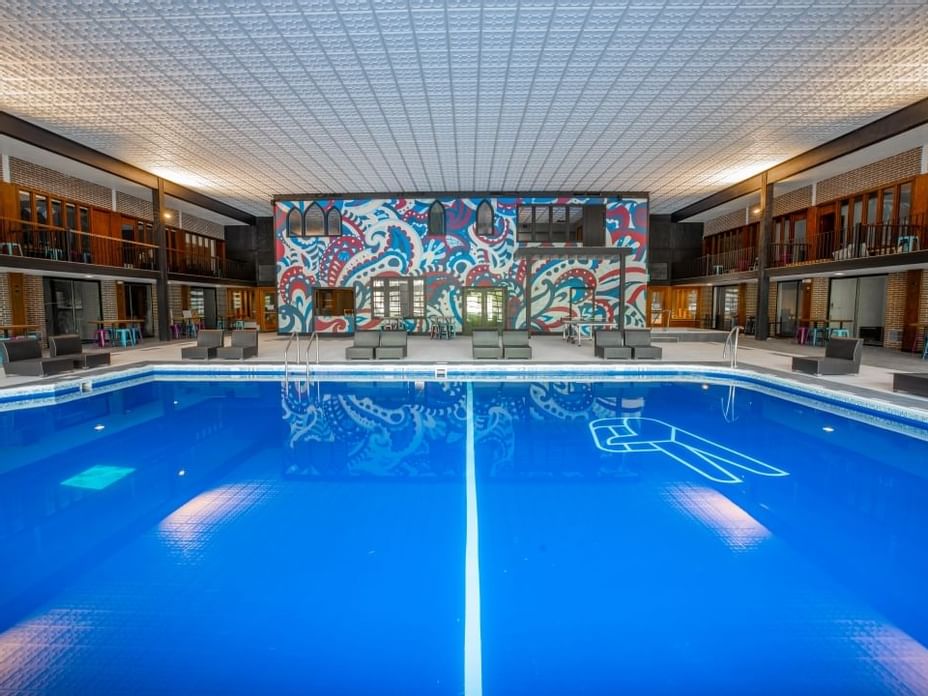 You might know us as The Highlander Hotel, but we're shaking things up and with that comes a sweet name change and a complete cosmetic flip to better show off our hippie style. But we aren't interested in forgetting our roots. We paid a little R-E-S-P-E-C-T to the 1967 Highlander Hotel and Supper Club with our radical 60's and 70's theme, we changed our address to 2525 Highlander Place, we moved the sweet chandeliers from the supper club into our main ballroom and we named our lobby bar The Highlander Lounge.
We've chatted with some free-spirits who loved the old Highlander, and they agreed on one thing: our pool rocks. It was already the largest hotel pool in the Iowa City area, but we gave it a loving spoonful of attention during our remodel. We have new non-slip tiles, giant garage doors to connect the pool to the courtyard, and a massive mural painted by Iowa City's own Thomas Agran.
If you're looking for the best digs in The Highlander Hotel, stay tuned to hear about our rockstar-quality penthouse suite. It's over 1200 square feet, has a private balcony overlooking the pool, a bowl-shaped bathtub built for two, a tiled shower that's more like a room of its own, a glamourous kitchenette, and a roomy seating area.
This is a call to all free-thinking travelers who are looking to break the chain on chain hotels. For the mamas and the papas here to shoot the breeze with their college kids The Highlander Hotel is the best hot spot to get immersed in Iowa City's counter-culture and we've got all the best games and activities to keep the family entertained. Those who've graduated from the U of I or are hardcore Hawks fans will love our built-in-tailgate-space (A.K.A. the courtyard) where we've got bags already set up for you. Business owners who need a stress-free-staycation after all the hours they've put in recently can spend a little time away from home while relaxing by our pool. Experienced independent-business-loving travelers will definitely want to put us on their bucket list for the retro-glam ambience and views alone. And for families looking to get on their good side, we have the best throwback board games for some quality bonding time.
The Highlander Hotel rocks out responsibly too, we've got some top-of-the-chart cleaning standards to keep safe during the COVID-19 crisis. Although we're retro-themed, we didn't skimp on high-tech options—we've got contactless check-in and check-out, and anything you want from the staff is just a text message away. We also deal in rare items, like hand sanitizer and disinfectant spray. There's one of each in every room, with refills available in case you're running on empty. We also have complimentary tie-dye masks that make safety stylish.
For the inside scoop on all things Highlander, check out the rest of our website, call us at 319-354-2000, or give us a like on social media. You can find The Highlander Hotel on Facebook or Instagram.